Engineering is no longer the most popular draw for Indian students headed to the United States for higher education. Programmes in mathematics and computer sciences have gained the top spot in order of preference over the past decade, shows an analysis by The Indian Express of Open Doors data compiled by the US State Department and the non-profit Institute of International Education (IEE).
The numbers are telling: In 2009-10, 38.8 per cent or 40,700 Indian students enrolled in the US pursued engineering programmes. In 2021-22, the proportion of students in engineering fell to 29.6 per cent or 58,957 — the rise in absolute numbers is in sync with the overall increase in the number of Indian students in the US.
During the same period, the number of Indian students in the US pursuing maths and computer science degrees nearly doubled — from 19.8 per cent to 36.8 per cent (see chart). In absolute terms, there were 20,769 Indian students in the US studying maths and computer science at the higher education level, as compared to 73,298 in 2021-22.
This trend is likely to hold, according to the US mission in India. During the launch of the latest round of the Open Doors report in November last year, an official said that even in 2022, the majority of Indians who obtained student visas chose programmes in math and computer science, engineering and business/ management.
A similar trend can be noticed even in the case of Chinese students in the US with fewer of them picking engineering compared to a decade ago, while in contrast, there are far more takers for courses in maths and computer sciences.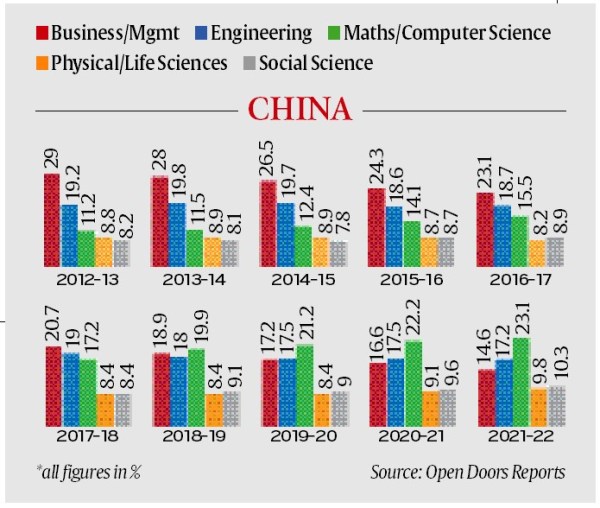 On Sunday, The Indian Express reported another key finding from a comparative analysis of Open Doors data: Even as students from India and China form a majority of international students in the US, those from India are more likely to stay back after their degree and sign up for the Optional Practical Training programme that allows foreign graduates with F-1 (student visa) to join paid or voluntary work up to three years in the US.
Additionally, there has been a steady decline in the enrollment of Indians in courses categorised as "health professions". In 2010, about five per cent of students chose to study medicine in the US, and it dropped to 2.6 per cent by 2020. The number of Indian students studying life sciences also decreased from 10 per cent in 2013-14 to 6.5 per cent in 2021-22.
In most other subjects such as social sciences, management, education, the enrollment figures did not register any substantial change. For instance in 2009-10, around 15 per cent of Indian students in the US for higher education were found studying management, and 13.3 per cent in 2021-22.
Open Doors reports are based on surveys of international exchange activity in the United States by the US Department of State and the non-profit Institute of International Education (IIE).
Data from the reports show that 199,182 Indian students pursued higher education in the US in 2021-22, a rise of 89.8 per cent from 2009-2010. Students of Chinese origin jumped 127 per cent during this period, from 127,628 to 290,086.The two countries collectively account for 52 per cent of all international students in the US.